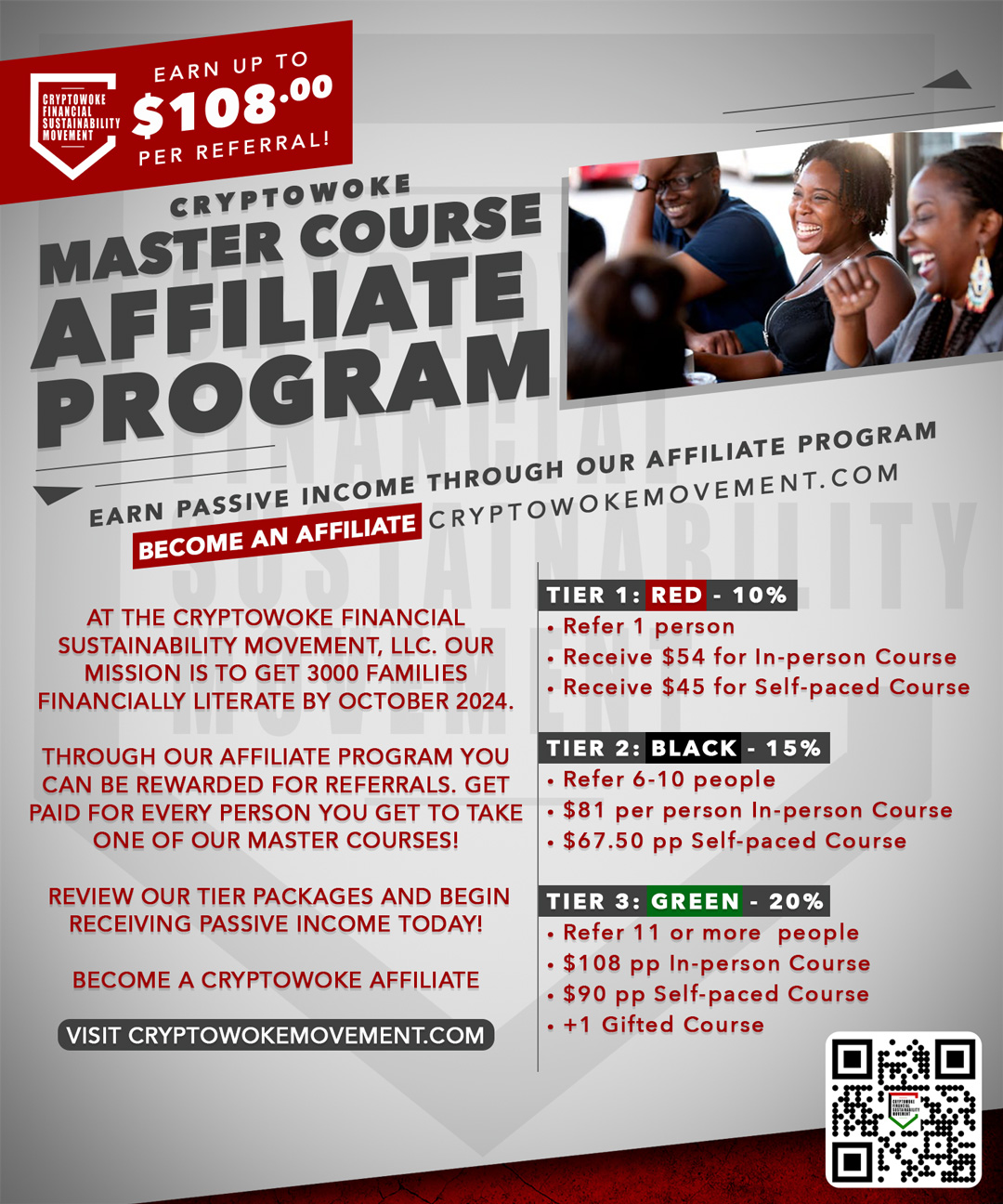 Become a Cryptowoke Affiliate Program Member!
Refer family, friends, and colleagues to get Cryptowoke and get paid for it!
At the Cryptowoke Financial Sustainability Movement, LLC. our mission is to get 3000 families financially literate by October 2024!
Although this is a commissioned-based opportunity, the sole purpose of our Affiliate Program is to expedite the goal of getting 3000 families "Cryptowoke" so that we will have a say in how we live our lives as the dawn of the Fourth Industrial Revolution begins. 
If we do not attain control of our finances that will be used to create sustainable measures for us to live wherever and however we want in the world, we will be reduced to having to accept what Euro- and Asian nations choose to parcel in portions to us.

I take this work seriously and am honored you feel it is worthy of sharing.
Through our affiliate program you will be rewarded for referrals. Get paid for every person you get to take one of our Master Courses!
Review our tier packages and begin receiving passive income today!
TIER 1: RED - 10% COMMISSION
• Refer 1 person
• Receive $54 for In-person Course
• Receive $45 for Self-paced Course
TIER 2: BLACK - 15% COMMISSION
• Refer 6-10 people
• $81 per person In-person Course
• $67.50 pp Self-paced Course
TIER 3: GREEN - 20% COMMISSION
• Refer 11 or more people
• $108 pp In-person Course
• $90 pp Self-paced Course
• +1 Gifted Course for anyone of your preference to take course (must be during group course)
HOW IT WORKS:
Register for Affilated Program at the link: https://forms.gle/APPZQLM3FLQscKMB8.
Upon completion of registration, you will be notifed of next steps.
Once your referrals sign up, you will receive commission (please see 'PAYOUT').
PAYOUT: Payouts On The 1st And 15th Of Every Month via PayPal, CashApp, Zelle
#GetCryptowokeOrStayBroke