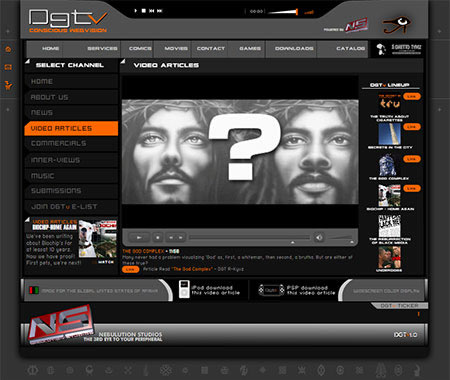 DGTv REVIEW IN MOTION: THE GOD COMPLEX
(written 2006)
One of the reasonz we created DGTv is for pieces like these. I hate to admit it, but Afrikanz-in-america have been livin' up to the stereotypical notion that we do not read (obviously, if you're readin' this, then you don't qualify).
There are hundredz and probably even thousandz of books written by our people that never get opened. Face it, if we intend to preserve our culture and history in the next century, we gotta find anutha way... hence the creation of DGTv: Conscious Webvision.
Here one can simply logon, click and play instead of havin' to read. It is my hope that after seein' one of our VAs (Video Articles), you'll want to pick up a book to find out more.
One of my favorite pieces to date is The God Complex. I believe we live in a world where hedz are afraid to talk about what God looks like, although inside, each of us desperately wants to know. Where some may find to even have this discussion is blasphemous, there are those who think outside the illusionary borderz of mind control and see "God" as more than otherz would want you to believe.
Logon to view this 11-minute short VA. Those who classify themselves as 'free-thinkers' – meanin' a person not bound to any of the three western religionz (islam, judaizm and christianity) – may find this piece serves as additional nutrients to your way of life. For those close-minded, it could serve as a key to a deeper understanding.
Either way, I hope you visit DGTv and witness a new way of edutainment: Conscious Webvision!
*NOTE: You must have FlashPlayer 8 installed on your computer in order to view. For the FREE download, click here.
––
M'Bwebe Aja Ishangi
Creator
DGTv: Conscious Webvision .


---
Developed & maintained by Nebulution Studios Contact webmaster, Da Machete at info@daghettotymz.com with your comments.