Book your One-to-One Financial Therapy Session with M'Bwebe Ishangi Today!
If you don't design your own life plan, chances are you'll fall into someone else's plan. and guess what they have planned for you? Not much.
Whether we realize or not, we all need some kind of financial therapy. As much as we need it, we also have the least awareness on how to use it as a tool. When we have an overstanding of how money was created and why its functionality's been a coded/privileged-type practice shared for centuries with only a select few until now, we will be in position personally—and even greater, as families—to use finances as a wealth-building modality, one who's resilience can spread well into the future of our bloodlines!"
>> Read 'Why Everyone — Including You — Needs Financial Therapy!'
That's why I created Cryptowoke and wrote the book, 'A Pot to Piss In: Intergenerational Wealth Planning for Black People'. Learning about money starts with a therapeutic approach, meaning, facing the systemic way we've all dealt with it and realizing it's by design.
Because I want us all to have access to this knowledge, I have two affordable one-to-one intro offers where we can speak direct as well as even do an assessment of your personal situation: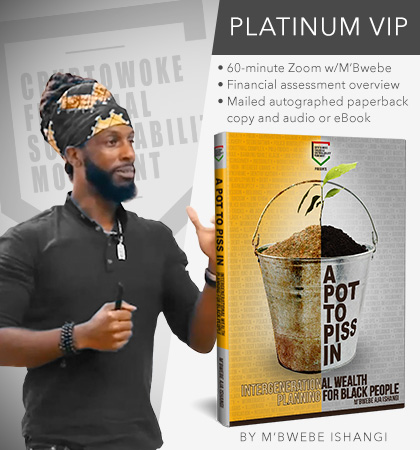 PLATINUM VIP: $145 $99
• 60-minute Zoom w/M'Bwebe
• Financial assessment overview
• Mailed autographed paperback copy and the digital download
Schedule you One-to-One >> HERE << then pay below:
---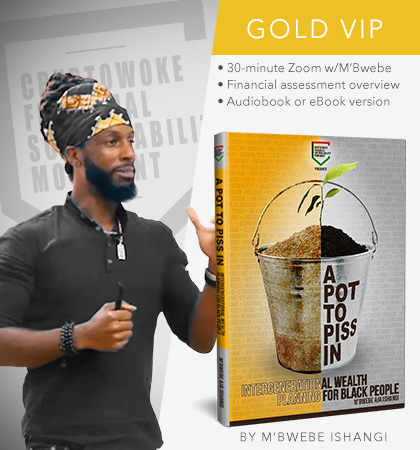 GOLD VIP: $99 $50
• 30-minute Zoom w/M'Bwebe
• Financial assessment overview
• Audiobook or digital download version of 'A Pot to Piss In'
Schedule you One-to-One >> HERE << then pay below:
---
PAPERBACK: $24.99
• Mailed autographed paperback copy of 'A Pot to Piss In: Intergenerational Wealth Planning for Black People'
---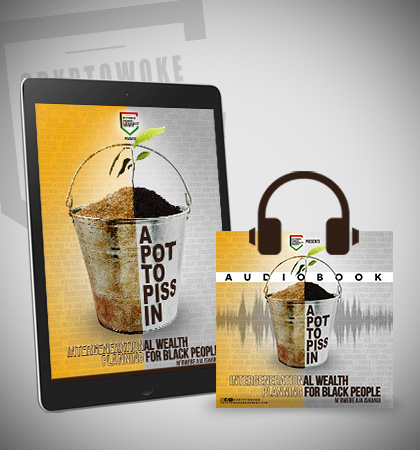 DIGITAL COPY: $20-24
• Digital eBook copy, Audiobook version, or encrypted PDF
---
Points of Discussion
Of the several fields I share, I highlight two; one whose methods date as early as this country began, and the other origin born within the past decade:
Leveraging the Awareness of Finances: We have been taught to attain as much education we can get not realizing there's a dwindling number of careers that will deny you not only to prosper, but more so, pay off the loans taken out to attain said education. Case in point, we are simply—and dare I say, PURPOSELY—not taught a full understanding of how money works. This isn't about learning how to budget a checkbook. This is about knowing how to leverage simple money-managing strategies that not only can enable financial sustainability, but the opportunity to fire your boss before they fire you!
Infinite Banking: A system that saves you money through insurance policies and other compound interest methodologies. It should be more important to have access to money you pay into traditional investment savings platforms [ie. 401(k), IRAs, and insurance policies] while you're alive rather than, in some cases, either be taxed huge amounts to use before you retire or even be prohibited from accessing until after you die (a death benefit). Much more, these traditional savings models face volatility that causes more loss than gain. Becoming Cryptowoke, you will learn ways to access create funds without tax so that businesses can be started, land can be bought, and paths of residual income can be created.
CFSM founder, M'Bwebe Ishangi has been learning and sharing what he's learned about finance since 2017. During this process, he's found an even more important niche that's been overlooked: understanding how money works and learning how to make your money earn money so you are in a position to move from paycheck-to-paycheck to intergenerational wealth.
These findings are shared particularly with POADUS (People of Afrikan Descent in the United States) and Global Diapsoric Afrikans because we are the demographic who needs it most! Additionally, there's a strong need to reinvest our learnings into ourselves as I find we've recently re-entered an era in time that mimics the days before the Civil Rights Era and in some cases, before integration! We must take care of ourselves because frankly no one else will!
If we are not mindful of how this world is changing, we will find ourselves in social and financial situations our children's-children won't be able to dig themselves out of!
This is the core-reason why finanical education is vitally essential. More people with degrees are unable to find work in their field of study. Employees are overworked and paid less, leaving many of us no choice but to show up at a thankless job that pays you just enough to return every Monday. We simply have been conditioned to trade labor and hours—that turns into decades—of our lives for money in the form of a check that will never enable you to prosper nor leave. This is the tenants of the Rat Race Psychosis.
Through the Cryptowoke Financial Sustainability Movement, we have an opportunity to break this cycle.
If you are looking to secure you and your family's financial future, you need to get Cryptowoke! Reserve your one-to-one with M'Bwebe Ishangi today!
And if you're ready to enroll in one of his Master Classes, details are below!
Ready to get Cryptowoke?
Inquire for Group Sessions for just $504.00
CHOOSE FROM COURSES BELOW: